Introducing Quadra Technology's integration of security with Communication.
We bring 20 years of experience developing, designing, installing, and maintaining systems for Data, Voice, Computer Networks and Security Systems. We have the knowledge and experience integrating these components to form one unified product.
The best security system is useless without the ability to communicate a breach. Just as important as the security system is; it is just as important for an expedient method to report any breach.  Our systems integrate Voice and Data networks along with Cellular and Wi-Fi networks to provide multiple redundant forms of communications. Our Security systems integrate audio with a visual image. We are working on a system to capture audio through the security devices and load it into a database module to audit it for words and  phrases to help identify potentially unwanted situations. Our security systems integrate to an unlimited number of access devices that control doors and gates within your organization, along with any number of other TCP/IP devices. 
When we talk integration, we mean one fully integrated system with one central point of administration that can control all your technology, all your updates, all your security in one central location. This means less training time, one call for support, a centralized support organization that can provide, Off-Site Backup, Disaster Recovery, Secure Remote Administration and Ransomware Protection, and Recovery.  Please see our write up on Ransomware.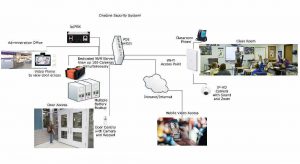 Dedicated security and communications for School Classrooms!
        Email or call us today for your free estimate: